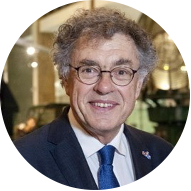 Anton Valk CBE, Chairman, The Netherlands British Chamber of Commerce (NBCC)
Anton has been the chairman of the NBCC since September 2013. Anton has 35 years of international executive business experience and entrepreneurship. Before joining the NBCC, Anton was CEO of Abellio, a successful London based international train and bus operating company with Netherlands Railways as its sole shareholder. Anton represented Abellio in national industry boards in the United Kingdom and established close relations with Central British Government, Transport for London and regional stakeholders.
Since stepping down as CEO, Anton has acquired a portfolio of advisory and non-executive positions in Culture, Anglo Dutch relations and public transport. During his whole career he established a reputation of strategic and innovative leadership, of building and leading multidisciplinary international teams which were dedicated to success and of successfully conceiving and managing joint ventures, acquisitions and multibillion GBP bids.
Anton's main responsibilities for the NBCC are to chair the board and the executive committee, to lead strategy and external representation and to be the guardian of the interests of the members by ensuring that the organisation pursues its agreed objectives.
Anton has an Engineering degree from Delft University of Technology.